JENNIFER SHERMAN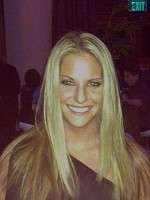 Jennifer began years ago as a student at MAXFIT. Her passion for spinning led her to become an instructor. Jennifer's background in the music industry is evident in every class-her sense of rhythm and timing and the musical choices she makes make her a superstar. She is a true joy and we are grateful to have her on our team.
JENNIFER SHERMAN instructs the following:
Enjoy a great mixture of steady steep climbing, downhill sprinting and flat road pedaling. Adrenaline pumping music and intense leadership will make this the "shortest" 45 minutes of your week. Light hand weights are used to tone and strengthen your upper body.....We promise you will leave this class with a true sense of accomplishment.